The session will concentrate on explaining the roles and activities of the impact investor and the management of early stage humanitarian technology companies during and after an investment transaction. The panel, comprised of professionals from Impact Investment firms, will discuss:
the benefits of Impact Investing to HumTech companies;
the necessary requirements that HumTech companies must satisfy to become an attractive investment;
the due diligence that makes a successful investment transaction;
the ongoing post-close management/investor operating and reporting relationship.
The intent of the coverage areas is to give early stage HumTech company management a clear picture of the conditions that Impact Investors are looking for in early stage companies that make them attractive investments.
---
Moderator: Dr. Joseph Franceschi, iNGOvation, Inc.
SCHUYLER "SKY" G. LANCE, Managing Principal
SustainVC, LLC
GP of The Patient Capital Collaborative Series of Impact Investment Funds; and
Senior Portfolio Consultant to Serious Change, LP
Sky is Founder and Managing Principal of SustainVC, LLC, the General Partner of the Patient Capital Collaborative Series of funds that invest in for-profit early-stage companies that are looking to provide meaningful social and/or environmental benefit to the world. Deal flow for the PCC funds come primarily through the oldest national impact investment angel network in the U.S., Investors' Circle.
Sky began his career in 1983 with the Bank of Boston in its High Technology Division, making equity-oriented loans and direct equity investments in early-stage high tech companies. In 1989, he joined the investment staff of Pacific Life Insurance Company and made direct investments in private debt and equity, as well as in investment limited partnerships (LBO, Mezzanine and Venture funds), both on a primary and secondary basis. In 1990, Sky co-founded the private equity firm today known as Windjammer Capital Investors with $2 billion under management.
Sky founded SustainVC in 2007, and since then has devoted his time entirely to investing for-profit dollars into companies that are making a positive difference. Sky has served on over a dozen company boards, is a regular speaker on the topic of Impact Investing, and is a consultant to other social investment venture funds.

JANINE ELLIOTT, Venture Development Program Manager
VentureWell
Janine is the Program Officer for Venture Development at VentureWell. VentureWell began in 1995 as the National Collegiate Inventors & Innovators Alliance (NCIIA) and serves inventors & innovators with grants, investment, and training so that they can bring their technologies to market. Previously, she has taught science and leadership skills for students of all ages from diverse backgrounds, and was most recently was a co-founder of a cleantech materials startup. She brings strategic insight, financial acumen, and a plethora of stories on best (and worst) practices for startups. Janine holds a BA in Environmental Policy from Colby College and an MBA from Dominican University of California.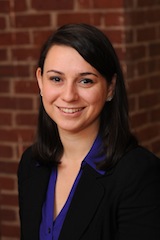 CHRISTINA TAMER, Program Officer for Venture Development and Investments
VentureWell
Christina Tamer recently joined VentureWell, a non-profit higher education network helping young scientists launch ventures that improve life for people and the planet. There, she is the Program Officer for Venture Development and Investments. Previously, she was an Investment Analyst at Invested Development, an impact investor that provides risk capital investments to alleviate poverty. She holds a BS in Marketing and an MBA from the University of Massachusetts Boston. Her academic research included a Masters Thesis on the impact of foreign direct investment and foreign aid on development in Africa.